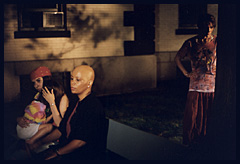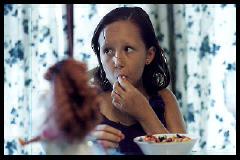 Drawing Down the Moon isn't just an adrenaline-pumper - it's a fun outreach tool for Pagan groups looking to make their philosophies known to the greater community, and a great excuse to overindulge in buttered popcorn! And, if you look carefully, you may see your humble Sunspot webmistress listed in the credits (under her legal name, Hilda Marshall). O Rapture...
Can one Witch and her dime-dropping neighbors buck an established drug business? Can magic fight crime when half the criminals are sporting blue uniforms? Can the Goddess Herself heal a town that's determined to stay wounded? When Gwyneth McBride takes her stand in the rundown hamlet of Steadfast, with only the residents of her makeshift homeless shelter as frightened and reluctant allies, all the rules go right out the window. What at first looks like wide-eyed naivete on the part of this brash young Witch quickly shines forth as true courage, and goes contagious. McBride faces down prejudice with compassion, corporate greed with logic, and ham-fisted thugs with the guts of a seasoned fighter; and finds her greatest ally in the guise of a worthy adversary (played by Walter "Chekov" Koenig!) Drawing Down the Moon is not only faithful to the spiritual realities of Witchcraft, it's a rare and highly entertaining illustration of precisely what makes magic - and humans - tick.
Now on DVD!
Sunspot Designs has been authorized by Director Steven Patterson to make and distribute interim DVD copies of Drawing Down the Moon until Chaos Entertainment puts out the official DVD!