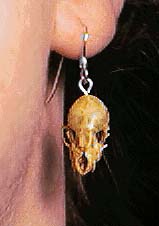 See by your song
Feed by your flight
Bring me good fortune
On wings of the Night...

A bat's skull, double-dipped in polyurethane for strength, on a simple sterling pin and French hook gives Nature's eloquence to your silence. (Probably Myotis lucifugus, but definitely some sort of Myotis "backyard bat.") This skull is only about 5/8 inch long.

Shown here in Natural, this item is also available stained Black if you prefer, at no extra charge.