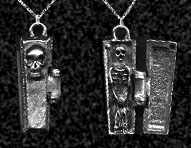 This is the tomb, and this is the coffin.
It's very well-kept; we visit here often.
Shut the lid to let him decay,
Or open it up - he won't run away...
About an inch tall (not counting hanging loop), this coffin is decorated with a skull, and opens to reveal the fact that it is indeed doing its job.